Video games have definitely contributed to my English learning journey—even as a six-year-old who barely knew any English, I already was fluent in video fame lingo. Now, twenty years later, I cannot deny it; video games can be fantastic tools that will improve your vocabulary, reading, and listening skills! Most importantly, it doesn't matter how old you are or what genres you like: there's a perfect game for each of you!
Even though all video games can improve your English, story-driven games packed with interesting dialogues are the best. That's why I've compiled a list of six video games in different genres and language ability—even the pickiest person will find something intriguing!
1. Firewatch
English Level: Intermediate to Advanced
English Skills: reading, listening
Genres: exploration, mystery
It's the year 1989. You play as a man named Henry who has just started working as a fire lookout in the stunning Wyoming (USA) wilderness. You have a troubled past that keeps on haunting you, but it doesn't stop you from doing your job and keeping the wilderness safe. The only person you can talk to is your supervisor named Delilah with whom you constantly chat over a handheld radio. However, this job is not as peaceful as you thought it might be – soon you have to solve various mysteries and explore the unknown world around you. Who knows what kind of secrets you will uncover?
2. Stardew Valley
English Level: Beginner to Advanced
English Skills: reading
Genres: Indie, RPG, simulation
Have you ever felt like living in the city is just too much: all the noise, the busy streets, and that boring office job… if so, this game is for you! Move into a peaceful countryside farm where you will be surrounded by nature. You can choose your own preferences: whether you want to raise animals, go fishing, go foraging, or go deep into the spooky mines. What is more, you will be able to interact with 30 unique people living in Stardew Valley. Oh, and if you like someone, you can also get married!
3. Life is Strange
English Level: Upper-intermediate to Advanced
English Skills: reading, listening
Genres: graphic adventure game
Max Caulfield, an 18-year-old photography student, discovers her unique ability to rewind time at any moment. Each choice she makes causes a butterfly effect; this means, every decision that you make will change the narrative once you're allowed to travel back in time. Explore various locations, interact with your surroundings, solve puzzles, but remember – each choice you make, will change the future!
4. Red Dead Redemption 2
English Level: Intermediate to Advanced
English Skills: reading, listening
Genres: action, adventure
America, 1899. The end of the Wild West era has begun. After a robbery goes badly wrong in the western town of Blackwater, Arthur Morgan and the Van der Linde gang are forced to flee. With federal agents and the best bounty hunters in the nation massing on their heels, the gang must rob, steal and fight their way across the rugged heartland of America in order to survive. As deepening internal divisions threaten to tear the gang apart, Arthur must make a choice between his own ideals and loyalty to the gang who raised him.
5. Emily is Away
Level: Beginner to Advanced
Skills: reading
Genre: adventure, indie, simulation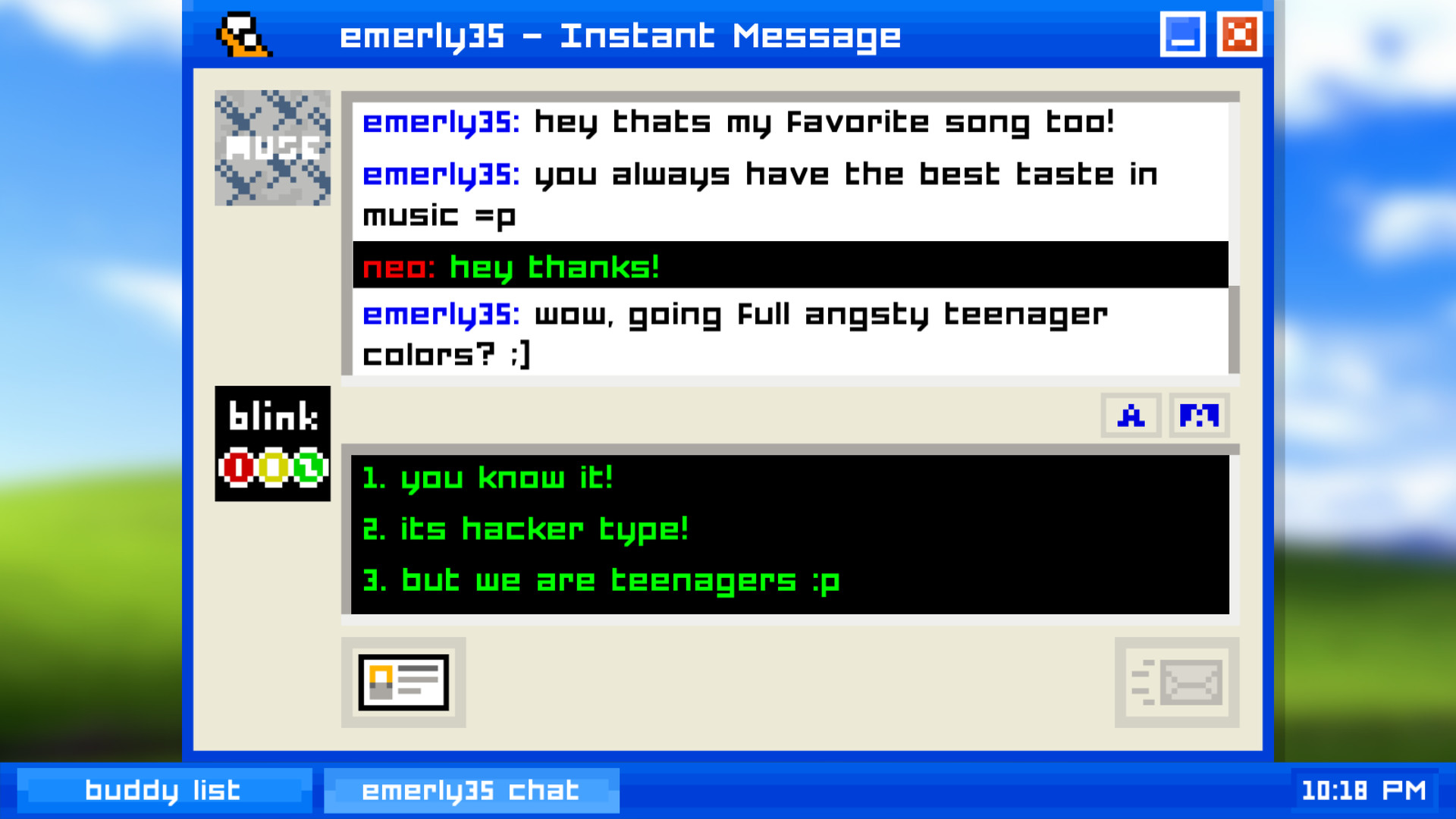 Do you remember a time before Facebook and Skype? When Windows XP was the next big thing and AIM was king. Go back in time and relive that era with Emily is Away. Create a screenname and explore your relationship with Emily, a fellow high school student, in a game where every choice will cause a different outcome. And most importantly, change your text color to lime green so people know you're the coolest kid in school.
6. Until Dawn
English Level: Upper-intermediate to Advanced
English Skills: reading, listening
Genres: Indie, RPG, simulation
Are you into scary horror stories that will send shivers down your spine? Try Until Dawn! Control the lives of eight unique individuals who have to survive on Blackwood Mountain. Explore spooky environments, solve dark mysteries and make difficult choices for each character. However, be careful – each decision that you make will determine whether characters live or die…
Frst var det virtuell verklighet och nu finns det virtuella spel Det knns som vrlden r pa vg att hamna i en vrld dr allting r virtuellt och mjligt Den virtuella. Casino Pa Internet Marknaden industrin internet on-line kasinon har vuxit och har kommer att vara mycket populr inom bara sen plus marknadsplats. online casino Mobilcasino r framtidens melodi och Microgaming r i framkant i utvecklingen Du hittar Microgamings casino spel hos de flesta strre Svenska casinon och du.